What's New - last updated January 9, 2023

Welcome to OpusGames.com!. I usually go by the name Doug Lanford, but I sometimes use the alias of a certain penguin when communicating on the internet.
I'm an experienced software engineer and (years ago) a game programmer. A few years ago, I moved to the wonderful small town of North Bend (also known to some as Twin Peaks), near Seattle, but recently moved back to my hometown of Albuquerque, NM... where the best New Mexican food exists....
During this Covid pandemic, I've been lucky to mostly work from home, building apps for MrOwl.com, a company building very useful medical and community apps.
The image of me shown above was created by John Kovalic, the creator of the wonderful "Dork Tower." He made me look far better than the reality! Take a look in the Dork Tower page to find out how I ended up in a Dork Tower comic!
---
Head over to the computer games page - this page has various links devoted to games I've helped create (or in a few cases tested early in my career), including cheats and easter eggs. Many have direct links below:
---
Robotech - I'm not only a fan of the cartoon series Robotech... I also worked on a video game based on it. Here you can find my fan page, including the most detailed information about the failed Robotech: Crystal Dreams game for the Nintendo 64 on the web.
---
Dork Tower - a fan page dedicated to one of my favorite comics... John Kovalic has built a wonderful world devoted to nerds and geeks of all kinds. Here you can find a couple of examples of his comic strip, and a database of information about the town of Mud Bay and the universe Kovalic created.
---
The Dragonriders of Pern - I've been a long-time fan of Anne McCaffery, especially her wonderful stories about the Dragonriders of Pern. A few years back, I wrote my own piece of fan-fiction in the Pern universe, and thought I'd add it here.
---
Animation Cels, Toys, and Collectables - this page is devoted to my nerdy collection of sci-fi and animation collectables. It includes a bunch of Japanese animation cels, a large collection of Robotech and other anime related collectables, as well as other stuff.
---
Book, Movie,and Game Reviews - For a period of about eight months years back, I dropped a brief review of all the books I had read, as well as sporatic reviews of movies, games, and anything else I happened to come across. It was taking way to much of my time, however, so it hasn't been updated since October, 1998. I go through at least a novel a week (mostly Sci-Fi, but not always), so the reviews page includes several search indexes.
---
Archaeology - primarily Mayan and Anasazi, with a few other things added in. The page is mostly pictures I or friends have taken, plus some reconstructive sketches I made for a college paper (of which I am very proud - these are the height of my meager artistic talents!)
---
Views From China - in December of 1999 I went to Guangzhou, China with friends who were adopting a baby girl... here are some pictures from that amazing trip!
---
Links - stuff I find interesting... links to on-line comics (Dork Tower, PvP, and more), SciFi and Anime stuff I like and other exotic locations.
---
Random Stuff - Pictures and info that I scanned in because I felt like it years back when I was first setting up my webpage. I really should update this with new pictures sometime!
---
Random Thoughts and Rants - occasional random essays and thoughts. Someday I'll write something for this page, but for now its nearly empty (and horribly outdated!)
---
It turns out I'm a Schroeder! That was a surprise... I figured me for a Charlie Brown type....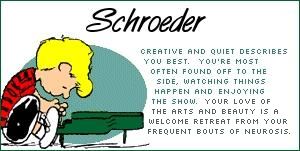 > Which Peanuts Character are You?
brought to you by Quizilla
---
You can send me mail at opus@opusgames.com








---
---
Opus the Penguin is owned and syndicated by The Washington Post Writer's Group. The image above is copyright © 1986 from the Bloom County Babylon: Five Years of Basic Naughtiness trade paperback. The picture was then colored by the author of this web page.

The image of me is copywrite 2002 John Kovalic :) Well... the comic it came from is his anyway!

All content on this and all the sub-pages at this website are © copywrite 2014 by Doug Lanford, except where noted specifically at the bottom of each sub-page.