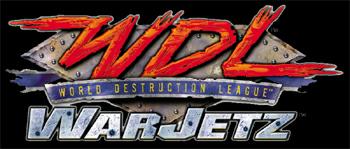 World Destruction League: WarJetz

---
Our goal with WarJetz was to make a simple and fun arcade style air combat game. We had a lot of fun making sure that just about everything you see in the game explodes into tiny little pieces. We built two versions of the game, one for the PS1, and then an even better version on the PS2.
---
World Destruction League: WarJetz PS2

The PS2 version of the game makes the various planes more unique... unlike the PS1 version, each type of craft in the game has its own special weapons. There are nine different planes, ranging from the weak but manouverable Dragonfly helicopter, all the way up to the massively armored Marauder, with its load of nuclear bombs. Add in 28 campaign levels and 4 multiplayer modes, and you have a very fun blast-everything-you-see experience!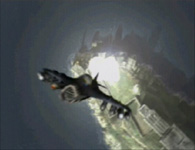 WarJetz PS2 Screen Shots - click here to see a couple dozen or so screen shots I took of the game.
WarJetz PS2 Technical Files - details about the various craft you can fly in the WDL.

Cheats Codes
There are a number of cheat codes in the game, which you can type in on the Input Code menu. I added a couple of special cheat codes, which we used while debugging the game:
BXDRW - show collision boxes... have you ever wondered how a game makes sure that things can hit each other? Now you can find out... turn on this cheat code, and any time you point your craft at a building or other object, you will see a set of boxes surrounding the object. Its these boxes that your gunshots are actually hitting!

WYPNT - show waypoints... I added this cheat code to help me find problems in our patrol path algorithms. If you turn it on, and then head into a level that has boats or cargo planes that follow a path, you will see a colored sparkle effect out in front of the object. This sparkle is the waypoint that boat or plane is moving towards next. You will also see the sparkle change color as the object gets closer to the waypoint... this is the game code switching modes as the object moves into range of it the waypoint.
---
World Destruction League: WarJetz PS1

The PS1 version of the game was completed first, almost six months before the PS2 version, even though both versions were released at the same time. The PS1 version has 8 different types of planes, 25 campaign levels, and 5 multiplayer modes. It also has half a dozen different weapon power-ups the planes can pick up for more destructive fun!
Cheats Codes

QPVS - BombBall Opus! (QPVS was the closest I could get to OPUS without any vowels...)

BombBall is a secret multiplayer game mode we added to the PS1 WarJetz... click here form more:
---
You can send me mail at opus@opusgames.com
---
World Destruction League, WDL, WarJetz, and the 3DO logo are copyright and trademark © The 3DO Company.
Sony, PS1, PS2, Playstation, and the Playstation logo are copyright and trademark © Sony.