BombBall!
---
There is actually one extra, secret, multiplayer mode we added near the end of the game's development. I had an idea I called "BombBall!" and with the help of one of the level designers, we put it together. The idea actually came from the N64 game "Buck Bumble" by UbiSoft... it has an excellent multiplayer mode called "Buzz Ball" that a friend and I have spent a lot of time playing, and I thought it might be fun to create my own modified version.
The cheat code "QPVS" activates the game mode... you then just need to select it like any other type of multiplayer game. Once you are in, you will notice that you can't select any craft except the Dragonfly helicopter. You will then find yourself in an arena with two goals, one at each end, and a giant ball bouncing in the center. Your goal is to shoot the ball into the other player's goal.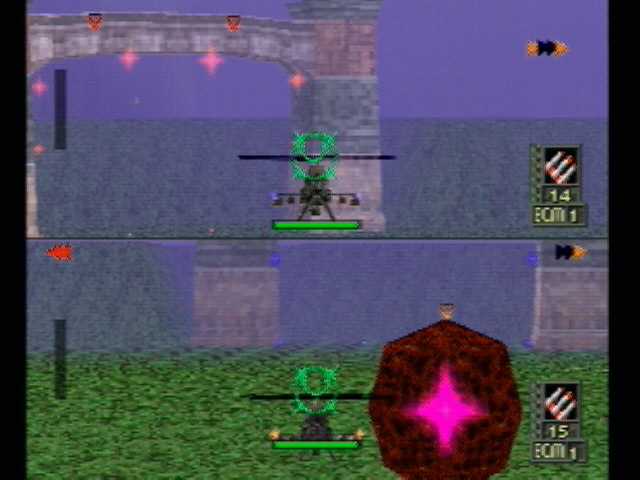 The controls are slightly different for BombBall. The only change is in the throttle controls... if you hold down the decelerate button, you will hover in place, and if you hold down the accelerate button, you will travel at fast speed. If neither button is held down, your helicopter will travel at is normal speed.
The weapons and powerups in BombBall are a little different than the normal game weapons....
Star - the Star powerup gives you a little of everything... you get a little health, 30 shots of rapid-fire ammo for your main gun, 5 iron bombs, 5 Swarmers, and 2 ECM.
Ammo - this powerup gives you 100 shots of rapid-fire ammo for your main gun. When you run out of rapid-fire ammo, your helicopter drops to a slower firing speed.
ECM - this powerup gives you 5 ECM charges. In BombBall, the ECM will not only break the lock on any homing missiles shot at you, but it also acts like a black-hole to the ball... if the ball is nearby, it will be dragged towards the ECM cloud.
Mines - mines are small floating explosives that you can place anywhere in the level. They will explode if shot, or if the ball or another player gets too close. These are good for placing as a shield in front of your goal. You get 5 per powerup, and each player can have up to ten mines active at once... if you drop more than ten, the oldest mines you have in the field will explode to make room for the new one.
Cluster Bombs - these work exactly as they do in the normal game... switch to bombing mode and drop them near the ball to bounce it away. You get 10 cluster bombs for each powerup.
Chaos Ray - this powerup gives you 2 shots with the Chaos Ray. The ray works exactly as it does in the normal game... fire it at another player, and all the powerups it has picked up will spray out.
Homing Missile - this powerup gives you 5 homing missiles... they will lock on to another player or the ball, and will then try to curve their way to their target.
Swarmers - you get 10 Swarmer shots with this powerup... the Swarmers shoot a spray of 3 mini-missiles, which are good for giving the ball a hard kick.
Photon Bomb - each powerup is worth 5 Photon blasts... just get near something you want to hit, and fire it... if you are near the ball, it will go bouncing off a high speed!
Shield - just as with the normal game, the shield gives you a few shots worth of invulnerability.
Magnum - this powerup gives you a couple of special weapons we added in to the game when we had a little extra time. You get 40 spinny-shots, which shoot out a trio of tiny spinning flak rounds, and you also get 100 shots of the very powerful Rotating Laser...
In addition, there is a special menu for BombBall... if you pause the game, and then hit the SELECT button on your controller, you will find a menu that allows you to change the settings for the game. You can adjust how often the different types of powerups tend to appear (set the weight for a powerup to zero to make it never appear... otherwise, the higher the number compared to the weight of the other powerups, the more likely it is to appear). You can also change the physics of the game ball.
Though you can play BombBall as a single player, we didn't have time to put in any AI for the computer controlled helicopters... they won't attack the ball, and instead will just try to attack you. The game is really meant to be a two-player game. You can also add in extra computer players, who will fly around harrasing the players.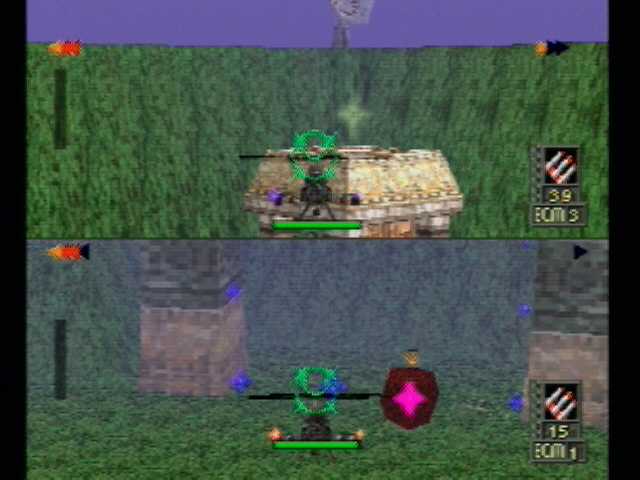 ---
You can send me mail at opus@opusgames.com
---
World Destruction League, WDL, WarJetz, and the 3DO logo are copyright and trademark © The 3DO Company.
Sony, PS1, PS2, Playstation, and the Playstation logo are copyright and trademark © Sony.