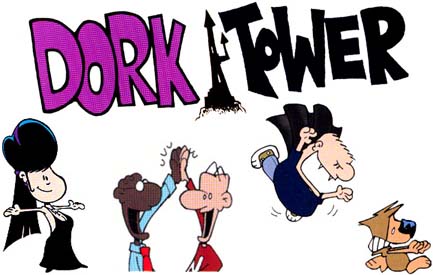 Dork Tower is a wonderful comic strip and comic book series by John Kovalic, following the exploits of a group of nerds in the town of Mud Bay. Matt, Igor, Ken, and Carson the Muskrat play role-playing and video games, geek out over the latest sci-fi movies, and tend to spend all their money on action figures. In other words, I find them frighteningly familiar....

The Dork Tower comic strips have appeared in a number of on-line magazines since it began in 1997, including the now defunct Shadis and Interactive Weekly magazines. It has run in Pyramid Online and usually appears three times a week at the official website: DorkTower.com. The comic has also appeared in several print magazines, including Dragon and Scrye. Many of the past comic strips can be found in the archives at DorkTower.com.

Starting in mid 1998, Dork Tower also moved to its own comic book. The Dork Tower comic books are published by John Kovalic's own publishing company, "Dork Storm Press," and many of the issues and comics have been collected into several trade paperbacks.

The Dork Tower characters have also appeared in several games, including "Warhamster Rally" (based on the fictional RPG Matt and crew play), the Steve Jackson games "Chez Dork" and the "Dork Tower" board game (loosly based on an ancient old favorite board game "Dark Tower"). John Kovalic has also worked on other popular card games, including "Munchkins", and the wildly successful "Apples to Apples".

I've even managed to find myself drawn in to the world of Mud Bay... see below for more.

Over the years, I've played around with trying to bring Dork Tower into the video game world... I've always liked the idea of Dork Tower video games! In the past, I've had a lot of fun playing around with homebrew Nintendo Game Boy Advance and Shockwave development, and I decided it was time to see Igor in his own games....

Go to the Dork Tower GBA video game!

Go to the Dork Tower Shockwave game!
---
The Dork Tower Database
One weekend years back, I spent some time playing around with ideas for a small Dork Tower video game. As usual, I got a little carried away, and ended up researching through all the comic strips archived at DorkTower.com, the comic books, and even the games, looking to build a reference for the locations and characters that could appear in the video game. I then realized that the results of my nerdy labor could also serve as database for the Dork Tower universe:
If you want to see the document I created as a concept pitch for a Dork Tower Game Boy Advance game, click below:
My Dork Tower Game Idea for the Game Boy Advance
---
This particular comic was my first exposure to the comic strip, e-mailed to me by a friend who knows how many toys I have in my cubicle at work....
In the wake of 9/11, John Kovalic offered up a couple of charity auctions for the Gaming Industry Disaster Relief Fund. I won one of them.... I found a way to help that let me have a great deal of fun in the process. The best part is that this "Gamer In Denial" looks pretty cool as a comic strip character! Huzzah! Hey Nonny Nonny!
This comic first appeared at Pyramid Magazine on April 26, 2002, and also appeared in Dork Tower #18 and the trade paperback Understanding Gamers.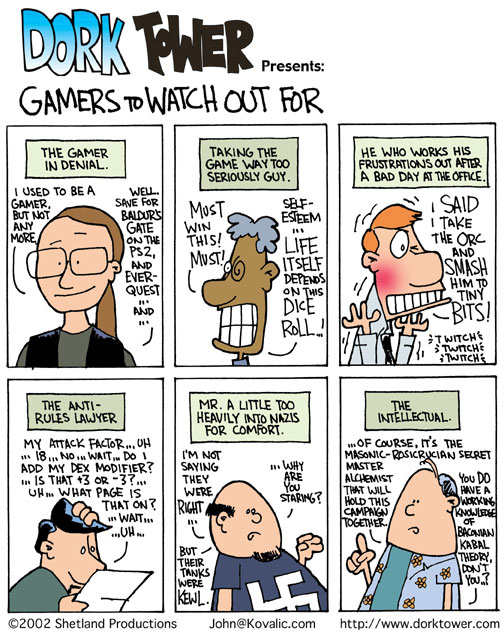 ---
You can send me mail at opus@opusgames.com.







---
All artwork, characters, and locations on this page are © 2002 by John Kovalic or the publishing companies of the individual sources. The artwork and information is derived from the following sources:
Dork Tower comic strips archived at DorkTower.com
Dork Tower comic strips archived at Pyramid Magazine
Dork Covenant trade paperback, collecting issues #1-6 of the Dork Tower comic book
Dork Shadows trade paperback, collecting issues #7-12 of the Dork Tower comic book
Dork Tower comic book issues #1-16
Warhamster Rally board game published by Jolly Roger Games
Chez Dork card game published by Steve Jackson Games
Images from Warhamster.com