---
NEWS:
---
Dec. 2, 2003 - Since I have a ton more webspace than I used to, I added the Eboliar video created by Paul Dostal (www.3dmecha.com). You can find it on the fan art page. I also did a number of small updates (mostly spelling fixes and the like).
Oct. 6, 2002 - I wrote a quick review of the new Robotech video game, Robotech: Battlecry, created by Vicious cycle. If you are a Robotech fan, you need to pick up this game! You can find my review here.
May 14, 2002 - Its totally unrelated to Robotech (other than the general fanboy nerdiness of it, anyway), but I've appeared in a comic strip! I've ended up in John Kovalic's wonderful "Dork Tower." You can find a copy of the comic on my Dork Tower Fan Page (at the bottom of the page).
April 13, 2002 - Paul Dostal added some more to his Crystal Dreams intro movie... I grabbed a few screen shots for my fan-art page, but you can get the complete version here!
April 5, 2002 - Added a link to an article about the upcoming Robotech games.
April 2, 2002 - I uploaded several pics from the intro video Paul Dostal created for R:CD... you can find them on the R:CD fan art page....
March 30, 2002 - Lots of news on this update!
The big thing is the new interview at robotech.com with my friend Lizard and your's truly... we headed down to Harmony Gold a few weeks back at the invitation of Steve Yun, and had a great time talking about Crystal Dreams. You can find the interview here!
In other news, Paul Dostal created some new Crystal Dreams images, in the form of a wonderful video that mimics what the opening cinematic of R:CD might have looked like. He took elements from my Cystal Dreams backstory and the Eboliar model he built, and created a minute and a half movie showing the first contact between the Ebolians and Kergen's Zentraedi. You can find it here. Its a bit large (about 25 Megs), and you will need to play it through the DivX codec, but you can find everything you need on his webpage (using the above link).
In other news, the two copies of the comic I put up on ebay finally closed out. Both went for quite a bit of money, so I guess my little 8 page promotional comic is still one of the most sought after Robotech comics out there... Huzzah!
Also, there are several new articles in game magazines about the new Robotech video game... it looks great, and I can't wait for a chance to play it! Go to robotech.com for more info.
March 23, 2002 - In the midst of packing for the move to a new apartment, I found time to put two of my last copies of the R:CD promotional comic up on ebay.com! You can find the listings here:
Comic 1 auction on ebay.com
Comic 2 auction on ebay.com
The 8 page Crystal Dreams comic is one of the rarest Robotech comics out there. The comic was written by me (those of you that have read my fanfic will recognize the storyline) and the artwork was done by Antartic Press, who had the Robotech comic license at the time. I helped hand out approximately 700 copies of this comic at the 1998 E3 trade show, and also grabbed about 50 copies for myself, which I have handed out to various Robotech fans over the years since. I'm down to six issues now, and I've put two of them up for auction on ebay.com, in honor of the release of the final Robotech DVD box set, which happens to include footage from the failed N64 game I spent over two years working on.
I've done this also in honor of the upcoming interview at Robotech.com... you've heard it here first! My friend Lizard and I went down to Harmony Gold a couple of weeks ago to give an interview about our work on Crystal Dreams, which should appear at the official Robotech webpage in the next few days... keep an eye out for it!
March 14, 2002 - Robotech DVD Box Set #7 seems to have hit the stores a week early! I stumbled across a copy when I went in for my weekly trip to the comic book store... as some may already know, it includes Crystal Dreams footage on the supplemental disc! I sent Harmony Gold 40 minutes of raw footage last August, which ADV compiled down to a wonderfully edited 5 minute R:CD video. In honor of this, I decided to grab my copy of the raw video and put a couple of "deleted scenes" from it up here on my webpage. You can find them here on the videos page. The DVD also included some video from the upcoming TDK and Vicious Cycle next gen Robotech game, which looks absolutely amazing!
In even more interesting news, this past weekend my friend Lizard and I went down to Los Angeles for a short vacation, at the invitation of Harmony Gold. We spent an afternoon wandering around the HG offices, but all I will say right now is that you should keep an eye on Robotech.com over the next few weeks... there will be some fun R:CD stuff coming soon!
February 17, 2002 - Several pieces of news lately! The first comes direct from Robotech.com... they've put up a preliminary screenshot from the upcoming Robotech game, and it looks like they will be using a cel-shading technique to give the 3D game a cartoon look!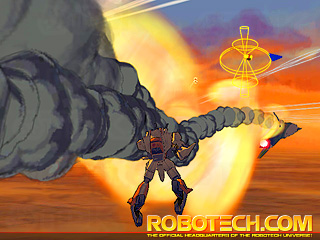 The other piece of news is a bit more personal... the final Robotech DVD box collection (set 7) will include information about Robotech video games. It will have some info about the upcoming games, and video from Crystal Dreams! A few months back, Harmony Gold asked me to record some video of R:CD that they could include in the DVD supplementals. I sent them a tape with about 40 minutes of raw footage... it will be interesting to see what pieces they picked!
January 25, 2002 - Big video game news! Lucky Chicken, the developer of the first of the upcoming Robotech video games (in this case, "Robotech: The Macross Saga" for the handheld Game Boy Advance), just released a few preliminary screenshots from the game! I've attached a couple of them here. Note that these images are very early... the game is due to be released this summer, so there are still 4 to 6 months before we will see final artwork.
For more information go here: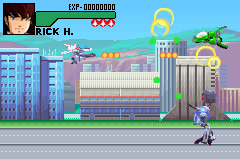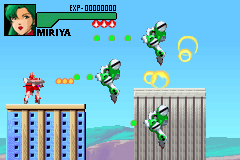 January 6, 2002 - I added a number of new images captured from R:CD, which you can find on the video captures page.
September 8, 2001 - The ROM is up and available... now we will see if I get in trouble for it!
September 6, 2001 - I decided to put up a copy of the ROM image of the demo version of the game on my webpage, since the ROM already exists on the web anyway. If whoever actually owns the rights to R:CD tells me to, I will certainly remove it instantly. The ROM itself is not on my webpage quite yet (It's currently 1am, and it will take an hour or more to upload, so I'll do it in the next few days)
I also finally switched all my pages over to use the new domain name in all the local links....
July 3, 2001 - I've received enough requests for the next chapter of my little R:CD fanfic that I decided to put up what I've written of it so far. Its only a rough draft of the first couple of pages, but it's been sitting on my computer for several months now, and I expect it will be a couple more months before I get back to it, so I thought I'd put out what little there is!
Also note that I will be on vacation until the beginning of August, so don't be surprised if I'm a bit slower replying to e-mails!
June 2, 2001 - With WarJetz PS2 nearly finished, I finally has a little time to add some updates. The main new items are a set of images a fan sent me of what Ebolair might look like, as well as a couple of minor edits to one of the R:CD story chapters.
In more important news, the next Robotech game is finally in the works! Mattel licensed the Robotech rights out to THK Mediactive, who in turn have chosen Vicious Cycle Software to develop the first game. It sounds like THK has plans to create Robotech games for the PC, several of the video game consoles, and even the GBA. You can get the official press release at www.robotech.com. You can also find an article about the new games at IGN here.
Mar. 18, 2001 - I spent the weekend programming up some tools to convert the dialog file to HTML format and hook it up to the game sound files. All 17.7 Megs of the sound files are now available!
Mar. 10, 2001 - yet another website now has the R:CD ROM... you can now find it at www.vintagegaming.com. Its in their public domain/ freeware N64 section.

You can now find my webpage under my new personal domain: www.opusgames.com!
Feb. 2, 2001 - a different rom link now in the previous news note, and a couple of cosmetic changes. I also noticed today that there was a new R:CD article at ign64.com... another "games that never happened" kind of article. I added it to the articles list on the main rcd page.
Dec. 30, 2000 - Somehow, the ROM image for R:CD has made it out on the internet... my best guess is that one of the many people that has looked at my demo cartridge over the past couple of years grabbed a copy directly off it. The ROM even appears to include a short document I wrote about the controls, which I sent with the cart when people borrowed it. Amazingly, the game ROM actually runs on a couple of the N64 emulators that exist out there. You can find the ROM here.
Nov. 6, 2000 - Electronic Gaming Monthly has an article about R:CD in their December 2000 issue. Surprisingly, they grabbed several quotes off this webpage, and even included my name in the article... does this mean I'm famous? (someone bring me a daquirie)
July, 2000 - The Robotech panel at Comic-Con had some interesting news:
ADV Films (one of the largest American anime companies, where Carl Macek now works) has grabbed the rights to put Robotech out on DVD. They plan to put out not only the entire 85 episode cartoon and the Sentinels, but also Codename: Robotech, a rare "movie" Harmony Gold created as a first test of Robotech. All will include commentary tracks with some of the writers and voice actors. There is even a possibility that Robotech: The Untold Story will finally see video.
Mattel Interactive is planning on producing a Robotech game ported to the PC and several next-generation game consoles. At this point, there is no actual info about what kind of game they plan (they are very early in the pre-production process), but it sounds like they are very interested in making a game that stays true to Robotech, and unlike Gametek, they have the market muscle to likely get the games finished. In fact, it turns out that one of the lead guys on the project (who was on the panel at the con) was someone I showed the demo cart of R:CD to a year or so back... they were already working on getting the license back then!
The all-CGI cartoon series Robotech 3000 by Netter Digital will not be happening, but it sounds like the story will be told anyway... Harmony Gold has gone back to some of the original designers and artists on the various Japanese series that make up Robotech, who have produced some test art for new characters. The idea would be to do Robotech 3000 as a cel-drawn series with some CGI, done largely in Japan (similar to several current anime series like Blue Submarine). You can find a couple of the character concept drawings on the new official Robotech website.
Harmony Gold's official Robotech website, Robotech.com is up an running (in a small way, so far), and will officially open in September.
Harmony Gold hopes at some point to bring closure to the Sentinels storyline, though what they plan is fairly nebulous at this point.
That's most everything from the panel... we did also get to see the Netter Digital test video, which was certainly interesting, but not particularily Robotech, and Carl Macek almost let some story info about Robotech 3000 slip out, but was stopped by Alan Letz (Harmony Gold's main Robotech person) before he let any cats out the bag. You can find an article at IGN.com about the panel as well: IGN's Robotech Panel Article. You can also find lots more Comic-Con news here at IGN-SCIFI.


For those of you desperate for a Robotech video game right now, there are several Playstation games based on Macross... they are all import games, so you will need either a Japanese PSX or a mod-chip for your American PSX. There are four currently released: (1) Macross DYRL, a side-scroller port of a Sega Saturn game, (2) Macross Digital Mission VF-X, a 3D shooter, (3) Macross VF-X 2, a sequel to the first Digital Mission, and (4) Macross Plus, which was just released in June 2000.
---
You can send me mail at opus@opusgames.com
---
Robotech is copyright and trademark © 1985 by Harmony Gold, USA, Inc.
Robotech: Crystal Dreams and all game related pictures are copyright © 1998 by Gametek, Inc.
Nintendo, N64, and the Nintendo 64 logo are copyright and trademark © Nintendo,.