A while back I tried a new sushi restaurant in San Francisco, called "Blowfish Sushi." Not only is the sushi some of the best in the city, but the place is totally decorated in anime. There are several TVs always showing something interesting, and the walls are covered in framed cels from dozens of shows, including Kiki's Delivery Service, Tenchi, Bubblegum Crisis, Megazone 23, and Slayers. Better yet, most of the cels are for sale. I really liked this cel when I first saw it, so the second time I ate there, I decided to pick it up.
It took me several weeks to figure out where the cel comes from... I posted a question on the now defunct Robotech Message Board and found out that the cel is from "Plastic Little." I then tracked down a copy of the anime....
The cel appears appoximately five minutes into the feature, when Captain Tita backs her bike through a crowd. It actually appears several times as part of a repeating animation sequence.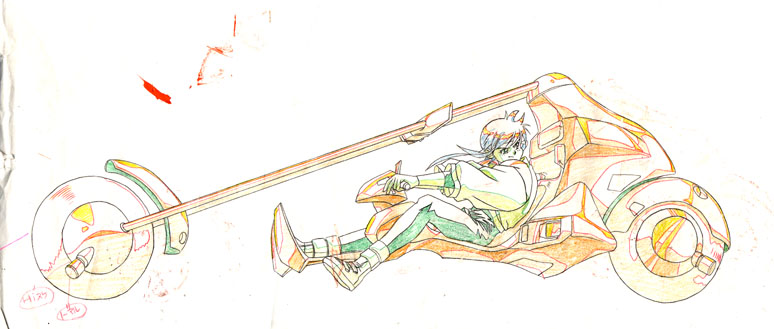 ---
You can send me mail at opus@opusgames.com