Star Shot! - A GBA mini-game
---
Original Star Shot! Version 1.0, with source code
Star Shot! version 6.0 (with lots of improvements!)
---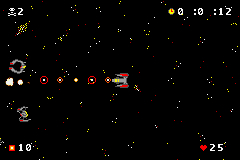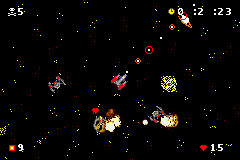 Star Shot! version 1.0
Here you can find my first attempt to build a GBA game... STAR SHOT! You can download it here, and play it on a Game Boy Advance emulator such as BoycottAdvance (see the links section on my main GBA page).
I built what you see here in about 70 hours of work, scattered across two weeks in late January and early February, 2002. It was compiled with the freeware GCC compiler, and tested on the Boycott Advance and Mappy emulators. The game does also run on an actual GBA... I picked up a flash-ROM downloader halfway through development of the mini-game, so I've been carrying the game to work with me. Note that this is not really a complete game! In mid-January I finally had some time (and a working gcc compiler) to play with the GBA, and this mini-game grew out of my experiments.
The game consists of 4 ships, 4 frames of bullet animation, 15 frames of explosions, 40 tiles of background stars, 4 icons, 10 numbers, a 28 character font, and one title screen. All the artwork was built (by me) in an old DOS copy of Deluxe Animator with some extra help from a couple of other common picture editors. The one exception is the explosion animation... I found a public domain animating GIF of an explosion, and converted its frames down to GBA specs. The starfield tiles were converted from the little starfield I created for my older GameBoy demo, and then mapped in tUME (a nice tile editor I used back when I was working at Sega).
You can also find the complete source code files to the game here. There are a lot of things I could optimize in the system (like the text printing, which is currently using sprites rather than a tile background), and a lot of things that I'm taking for granted from the gcc compiler, but the code doesn't seem to be taxing the system so far.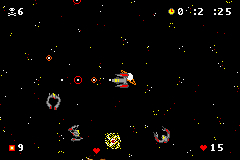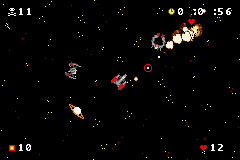 Star Shot! - (ROM image, 18 Kb zip file)
complete source code - (77 Kb zip file)
---
Star Shot! version 6.0
Starshot has gone through several versions since I first built the original version... I'm currently up to version 6.0!
Star Shot! 6.0 - (ROM image, 91 Kb zip file)
Version 2.0

The first major update to the game (around April 2002) added a background playfield with nearly 1000 asteroids and 5 rotating space stations, as well as the SUPERBOMB special weapon and the main gun weapon-up powerups (with 4 gun power levels). This one was a test of building a system for displaying background tile objects, building a system that can handle hundreds of tile objects and scroll them on to screen as the player moves around. I then added in the superbomb and weapon-ups on a whim....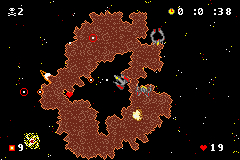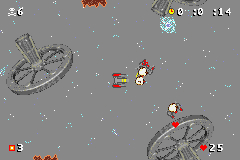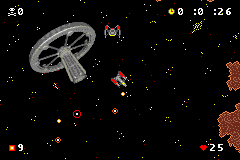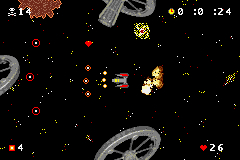 Version 3.0

I added sound effects (like most of the artwork in the game, its cobbled together by a programmer, so its not great!), as well as the ability to change difficulty settings and save high scores in the save RAM. This version was mostly me trying to figure out how sound and SRAM worked, and then throwing in some tests that morphed into actual (if basic) sound effects. I then figured out how to save high scores in SRAM, only to realize I didn't much to score... that led to creating a system for setting the probabilites for enemy ship creation based on difficulty levels (by the way... every 25 enemy kills increases your difficulty level in the game).
Version 4.0

There is yet another new version, just in time for a new year! Version 4.0 adds a tile based static particle system. In November of 2002, I was day-dreaming about what I would do if I could create a Robotech GBA game. I was pondering how to create good Macross style missile trails in a 2D tile-based graphical system, and had a brainstorm. After getting the system working, I decided to try to drop it in to Starshot and see how much it slowed down the game... amazingly, it didn't much at all, so I ended up creating several effects with it. The player's ship now has two engine smoke trails, ships explode in a cloud of sparks, and I added a second special weapon... missiles, of course! There's a new missile powerup, and you now use the SELECT button to change special weapons.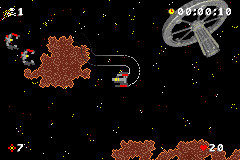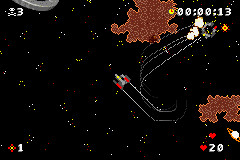 Version 5.0

So I find myself out of a job (3DO appears to be a goner)... do I job hunt? No... I do some GBA programming. This update adds a second backdrop to the game... now you can play over a city of buildings! Its only one building, actually (you guessed it, the horror of programmer art), but there are over 2000 of them scattered around the world, and each is individually damageable (with 16 states of damage). Also, the enemy ships plunge to the ground when killed on the Buildings World, often hitting buildings on the way down. If you can get the enemy to destroy a building completely, you'll find something useful!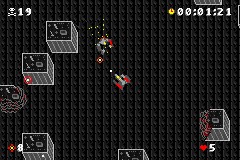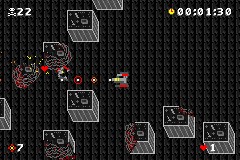 Version 6.0

Dec. 3, 2003 - I was pondering an old game for the Intellivision (Tron Deadly Discs) and came up with a simple way to do a disc shaped projectile. It is now the missile in Starshot. I also improved the way the missiles fly, making them a bit more interesting. Lastly, I added back in the shield (including a new powerup graphic for it) and changed the way you select the special weapon. You now need to hold down the SELECT button, and tap the d-pad to select (different directions = different weapons).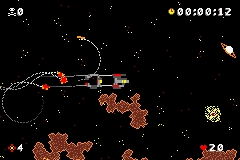 ---
How To Play
Welcome to space combat! Your primary goal is to survive against the constant swarm of alien ships. The aliens come in three different types, but all have one thing in common... they are out to ram themselves into your ship!
You start with 20 health points... reach zero and you die a loser! Reach max health and you win! You can also play ENDLESS SWARM, a game in which you survive as long as you can!
Tips: The key to winning the game is use the STRAFE controls... fly away from the enemy ships, and then strafe to spin around and shoot behind you as they follow. Also, watch out for heart powerups produced by destroying the "Random Walk" type enemy ships... they are worth 5 health points, which is more than double the worth of other ships.
Controls:
D-PAD
turn / move
A
shoot (autofires)
B
shoot special weapon (shield in Star Shot! version 1)
L
strafe (ship continues along current trajectory but can be turned in any direction... very useful for shooting behind you!)
R
turbo (ship travels twice as fast!)
SELECT + D-PAD
select special weapon

up = superbomb

down = shield

left/right = missiles
START
pause game
Ships:
| | | |
| --- | --- | --- |
| Player | | The player's ship has an autofiring plasma bolt gun and storage for both missiles and superbombs. The player's craft starts with 20 health points, but it can hold a total of 100. |
| Alien: Chaser | | This alien homes directly in on you. It takes 5 shots to kill it, and if it hits the player it can do up to 5 points of damage. If killed, it usually produces a 2 point health powerup. |
| Alien: Random Walk | | This alien recalculates its heading at random times. It takes 10 shots to kill it, and if it hits the player it can do up to 10 points of damage. If killed, it usually creates a 5 point health powerup. |
| Alien: Zig Zag | | This alien zigs towards you every half second. It takes 5 shots to kill it, and if it hits the player it can do up to 5 points of damage. If killed, it usually produces a 2 point health powerup. |
Powerups
| | |
| --- | --- |
| | Worth 2 or 5 health points (depending on the type of enemy ship the powerup came from). |
Screen Icons
| | |
| --- | --- |
| | How much health you have. Hit 0... you're dead! Reach 100 to win! |
| | Game time... how long have you been playing? |
Cheats
There are four cheat codes in the game... all are accessed while on the start screen. Hold down both the shoulder buttons to set the cheat mode, and then tap:
A button - increase main gun power level
B button + D-PAD - increase number of weapons you start with
SELECT button - toggle profiling on/off (this is debugging stuff to tell me how fast the game is running... pause the game to see it)
D-pad left - Quick Win - you win the game at 25 health.
---
You can send me mail at opus@opusgames.com