Shamian Island - The View From The White Swan Hotel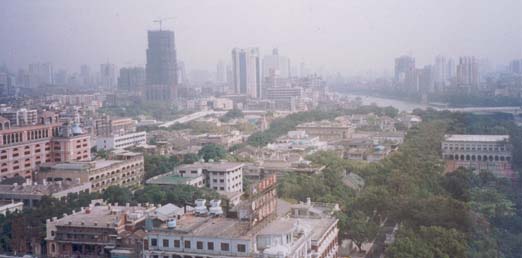 Here is a shot looking north-west from my room on the 22nd floor of the White Swan Hotel, in Guangzhou. As the image shows, the city westerners used to call "Canton" is a huge modern metropolis, complete with crowded streets and pollution haze. It is the largest city in the Guangdong province, and is the sixth largest city in mainland China.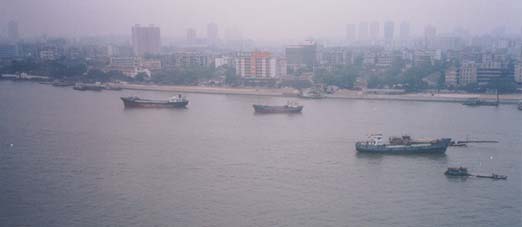 Here's a view from my friends' room on the twentieth floor, looking south across the Pearl River. The White Swan Hotel sits right on the edge of the river, on Shamian Island, a sand bar that became the one location in the city foreign traders could trade from in the 18th century. Now it is the site of several foreign embassies, including the United States Consulate to China, which is why all American adoptions end up in Guangzhou before they can go home.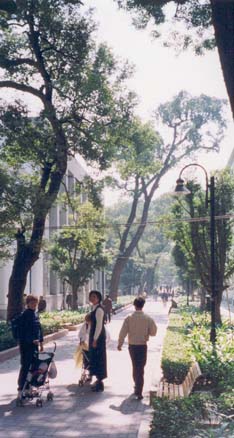 Shamian Island is a change of pace from the rest of Guangzhou... the bustle and crowding of the rest of the city is muted here. This is a picture of our Chinese facilitator, Lily, on a walk near the hotel with Tina and Abby. Just about every day, my friend Andy and I would go for a walk around the island with Abby, some of the most enjoyable moments of the trip for me.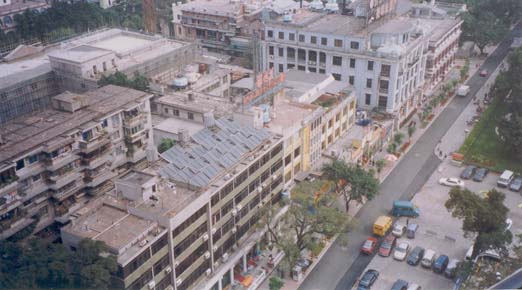 From my room, you could look down on the shops across the street from the White Swan. The trees near the center of the picture hide not only an amazing Cantonese restaurant, but also a 7-11 convenience store... open 24 hours for your soda and snack needs!
The White Swan Hotel itself is amazing. Its a five star hotel, designed to cater to westerners traveling in Guangzhou. Among other treats, the maids turn down your bed for you every evening, and there is an attendant on each floor, whose primary job is to push the elevator button and hold the doors for you!
---
You can send me mail at opus@opusgames.com