Meet Abby Yong Hong Young!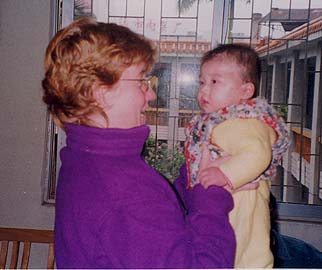 The day we arrived in China, we headed off to the small city of Quin Yuan, an hour north of Guangzhou. There, we found the orphanage... I was promptly put in charge of the cameras, while my friends filled out the final paperwork for their new daughter. Then the big moment came... Tina meets Abby for the first time!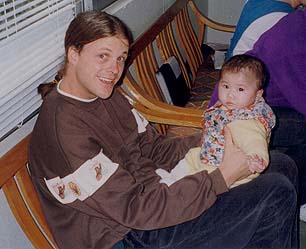 Then it was Andy's turn, while Tina and Allison (who was also adopting a baby with the help of our facilitator, Lily) signed more paperwork in the background.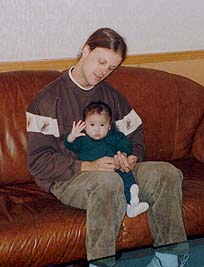 The next day, we travelled to a Guangzhou government office, where Andy and Tina finished the Chinese adoption process. This is a picture of Andy, sitting in the office, while Abby waves at the world... one of her favorite things to do!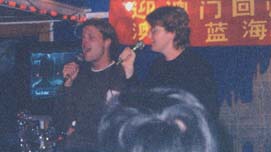 Finally, here is a picture of kareoke in action! A few days later, we decided to take a dinner cruise along the Pearl River... after dinner, I spent most of the evening up on the top deck of the boat, watching the city pass. However, the dinning deck let the passengers entertain themselves... Andy and Tina even took a turn, singing "Twist and Shout" while Abby and I enjoyed the show. Here, for your amusement, is also some of the other songs listed in the kareoke playlist from the cruise... see if you can figure out what the actual songs were!
A GROODY KIND OF LOVE
PRETTY LOOMAN
COME BACK WHDN YOU CROWUP
UR MY OLUV
I FELL GOOD
MOON YIGHT EXORESE
BAR TENDER ANGEL
JING LE BELLS
MISS YOU MUSH

---
You can send me mail at opus@opusgames.com